Financial Planning for Business Owners
IS SELLING YOUR BUSINESS PART OF YOUR RETIREMENT PLAN? HERE'S WHAT YOU NEED TO KNOW.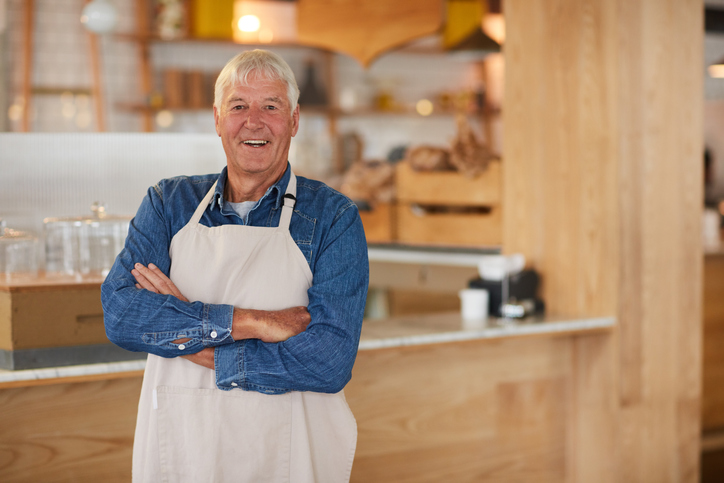 There's a lot to do when you own your business, but that doesn't justify putting off your financial planning needs. In fact, the more complex your financial life is, the more important financial planning can be. There are a lot of moving parts, and therefore, a lot to consider. For example, what's your plan for retirement? Selling your business? According to reports, roughly 50 percent of small businesses fail before five years are up.
It's all too easy to focus on sales and revenue and feel that your business financial planning is adequate. While sales and revenue are certainly necessary for a successful business, financial planning encompasses much more. The team at PAX Financial Group has created this guide to specifically help busy business owners create a top-notch financial plan.
Chapter 1
Every Business is Unique
It's important to position your business firmly within its sector and the economic principles that pertain to it. Yes, every business is unique. But sector concerns will affect your business just as much as general economic principles.
Some sectors, for example, chronically run on quite low margins. Some retail stores and restaurants can historically succeed on these low margins, as long as sales are steady and the business financials are regularly monitored.
Other businesses, such as office-equipment sales, focus more on high-ticket items that clients purchase occasionally. Margins can be more robust, but financials also need to be regularly monitored to ensure that sufficient sales occur.
Each sector and type of business has Key Performance Indicators (KPIs). Are your KPIs gross profit margin, net margin, foot traffic, cashflow, quality of customer experience or some other factor? Being aware of important KPIs at all times is critical.
15 Things to Have in Place Before You Retire
Financial Advisor in San Antonio Breaks Down 5 Types of IRAs: Which is Right for You?
Business Owners: What 'Paying Yourself' Should Mean, but Probably Doesn't
Chapter 2
Family-Run Businesses
If yours is a family-run business, it's important to make key decisions about the family to keep both your business and your loved ones functioning optimally.
What role will your family have, for example? Who in the family will work in the business? What will their role be? Do you have a succession plan for family members?
Be sure to abide by several best practices found to be tried and true in family businesses.
First, make sure to create clear roles for all employees.
Second, the corporate chain of command should be followed. If the chief financial officer makes a decision, it needs to be supported just like it would if your boss wasn't related to you. Don't let family members persuade you otherwise.
Third, recognize that the business and the family have separate goals, and manage them separately to achieve those goals. Business goals are sales- and revenue-driven. Family goals are for emotional support and care. You may want to plan family vacations around getting together and furthering emotional ties. Business planning will center around products, sales and revenue.
Common Estate Planning Questions: How to Pass a Business on to the Next Generation
Business owners tend to have a lot of roles, but managing taxes should be a priority. Actively managing taxes can help achieve two goals: Minimizing the tax you need to pay while also avoiding penalties.
If financial services is not your area of expertise, work with a professional who can help you achieve your goals. Taxation is, frankly, one of the most complex areas of business life, and one that changes often. Taxes can vary depending on your business and sector. Not only that, but the IRS changes the rules on taxes and business allowances frequently enough that few business owners can keep on top on them completely. By working with a fiduciary professional, you are paying someone to do so!
Businesses are subject to many different forms of taxation. Do you know what you are expected to pay? Required taxes can include income taxes for the business (separate from your personal income tax), sales tax, property tax, payroll taxes for employees (Social Security, Medicare and unemployment insurance) and possibly a self-employment tax.
Certain types of businesses may be required to pay excise taxes, franchise taxes, taxes on gross receipts and taxes on dividends.
You can minimize your taxes by paying attention to allowable tax deductions, depreciation schedules for equipment and other purchases, tax-advantaged retirement plans for employees (see next section), choosing employee benefits wisely (many contribute to tax management for the business) and even the structure of your business.
Limited Liability Companies (LLCs), for example, pass your company's income through to the taxes of the individual owners, which can make your taxes lower than they would be in other corporate structures, such as an S Corporation. LLCs can also potentially pay less in the Social Security and Medicare portions of their payroll taxes.
If you're a family business, hiring close family members can reap tax gains as well. You do not have to pay the unemployment tax of a spouse, for example, and payroll taxes on a child who works for the business can be reduced.
It's also important to be aware of when all these taxes are due, of course. Employed individuals only need worry about April 15, but that doesn't apply to businesses! Income and many other taxes are due quarterly, and payroll taxes must be paid on an ongoing basis. Failing to pay on time can subject you to steep fines from the IRS.
Chapter 4
Company-Sponsored Retirement Plans
Company-sponsored retirement plans, such as 401(k)s, offer multiple benefits to business owners.
First, they are highly prized by employees. Plans such as 401(k)s offer pre-tax contributions, which lower employees' overall tax burden for the year. The contributions and any appreciation also grow tax-free over the years, until they are withdrawn at retirement. Your employees are likely aware of the need to save for their own retirement and not rely on Social Security.
Offering a popular benefit such as tax-advantaged retirement plans can also help you with hiring and retention. Good employees are more likely to be attracted to, and stay with, a firm with good benefits than one without. A high rate of retention has the potential to lower your hiring and training costs.
Second, these plans not only have tax advantages for your employees, but they offer tax advantages to your business! Tax-advantaged plans, such as 401(k)s, can provide tax deductions both for the business and for you as a business owner if you contribute (in your role as an employee of the company).
Tax credits are also offered for these plans that can minimize your costs and assist in your cashflow management.
Businesses must maintain retirement plan assets, and increases from those assets (such as stock price appreciation and capital gains) are tax-free.
Finally, a wide spectrum of tax-advantaged plans other than 401(k)s are available to small businesses as well, and they may allow a higher level of tax-deductible contributions in a year than 401(k)s or Individual Retirement Accounts (IRAs). Contributions to 401(k)s are currently capped at $19,500 per year (with a catch-up of $6,500 per year for those aged 50 and over). IRA contributions are capped at $6,000 per year (with a catch-up of $1,000 for those aged 50 and over).
Some of these plans also allow cashflow strategies that can be very advantageous. In choosing company-sponsored retirement plans, it's important to keep the size of your company, its cashflow needs and your goals firmly in mind.
Talk with a fiduciary financial advisor to clearly understand your options.
A Retirement Checkup for Employers: 3 Perks to Consider as People Return to Work
5 Ways Offering a Retirement Plan to Your Employees Benefits You, Too
Chapter 5
Liability Concerns
It's wise for business owners to protect against liability on multiple fronts. It's a crucial part of risk management. Remember, just because you've personally done nothing wrong is no protection against someone (or another organization) telling a court that you have.
Take care to avoid any comments or actions that could be seen as a conflict of interest or cause for legal action. This includes comments or actions against individuals, other companies or government officials.
Set up liability insurance for your business.
Assess the benefits of incorporating your business to protect against personal liability for legal judgments and debts. If you are subject to a lawsuit by any entity, and the lawsuit is successful, your personal assets could be taken as part of any judgment against the business. If your business incurs debts it cannot pay, your personal assets can also be taken to pay the debt. This includes assets such as cash or stocks, houses and vehicles.
Several different types of business structures, however, separate business from personal assets, including LLCs, Limited Liability Partnerships (LLPs) and corporations, such as S corporations and C corporations. Your company becomes legally separate from you.
It's prudent to discuss the best business structure for risk management with a professional, as each type is associated with requirements for reporting, taxation and more.
Estate Planning San Antonio: How to Help Your Family Financially Through a Trust
No company owner exists in perpetuity. At some point, you will likely no longer want to run your business or find you can't.
An exit plan is a key part of financial planning. While you may not know your exit plan when you start your business, it's important to formulate one along the way, because each comes with associated asset and tax considerations.
You may want family members to run the business, for example. But you will need to consider the emotions involved. Don't run the risk of rifts in the family based on who the successor(s) are or what type of control certain family members have. Discuss your plans fully and openly far before any final decisions are made.
You may want to sell the business, or pieces of it. Consult professionals to make sure you maximize the benefits and minimize any drawbacks, such as taxation.
Finally, never let your exit be a complete surprise. Doing so can cause disruption to the business or cause emotions to flare up. The best exit plan is a known, orderly one.
Financial planning can be complicated. Working with an outside financial advisor who can help you achieve optimal financial planning through the stages of your business can be a huge benefit.
8 Dangerous Financial Planning Assumptions Business Owners Shouldn't be Making
Working in 'Retirement'- 4 Things to Consider
PAX Financial Group specializes in helping business owners with their unique needs. Schedule a no-obligation, 15-minute meeting with our team, and get the conversation started!
If you're ready to get help with your finances and put a comprehensive plan in place, contact us to see how PAX Financial Group can help.
This material is provided by PAX Financial Group, LLC. The opinions voiced in this material are for general information only and are not intended to provide specific advice or recommendations for any individual. The information herein has been derived from sources believed to be accurate. Please note: Investing involves risk, and past performance is no guarantee of future results. Investments will fluctuate and when redeemed may be worth more or less than when originally invested. This information should not be construed as investment, tax or legal advice and may not be relied on for the purpose of avoiding any Federal tax penalty. This is neither a solicitation nor recommendation to purchase or sell any investment or insurance product or service, and should not be relied upon as such. All market indices discussed are unmanaged and are not illustrative of any particular investment. Indices do not incur management fees, costs and expenses, and cannot be invested into directly. All economic and performance data is historical and not indicative of future results.
DOWNLOAD OUR FREE EBOOKS ON PERSONAL FINANCE TOPICS.