Life can get Complicated….
As your wealth grows, you need a partner that are fiduciaries who respect Judeo-Christian values that can help you sort through real-life financial complexities so you can live the life you want.
Proudly Located In San Antonio, TX
Biblically Responsible Investing (BRI):
Feeling Good About Your Investments
Ready to have an Real Conversation about the health of your wealth?
Getting started is as easy as 1-2-3!
Connect with us to
Speak with an Advisor
We are excited to speak with you. Don't hesitate to reach out.
Meet with a
Financial Expert
We want to focus on what you care about. We have a discovery process to genuinely understand what drives you. Clarity on your goals and resources is the first step in living the life you want.
Create a
Personalized Plan
We want to focus on what you care about. We have a discovery process to genuinely understand what drives you. Clarity on your goals and resources is the first step in living the life you want.
With PAX Financial Group, you get advice from fiduciary advisors who are passionate about investing in your life.
Peace of mind
"My wife and I have been guided by 2 different advisors at PAX, and both have been exceptional. The session in which we were asked to place our financial priorities in order from top to bottom was enlightening and encouraging. We learned that our risk tolerance was very similar and subsequent investment strategies were developed with those preferences in mind. Over several years, we have called or emailed with questions when we read or hear something, and always receive thoughtful, incisive guidance. Often, the suggestion/advice we asked about was very appropriate for the friend who offered the advice, but clearly did not fit our situation and unique "financial personalities". We arrived at PAX with Dave Ramsey financial planning and a savings plan firmly in place, but we were pleased to learn of better options to tweak our investments. Best of all, our sophomoric questions that were handled with patience and we learned a lot. We believe our financial future is all up to God, but that we are confident we are being good stewards of His resources with guidance from PAX. We couldn't be more pleased."
Financial Success
"I was one of the first customers with Pax Financial. Darryl and I went to church together even though we had never met. I began investing money through Pax and i have benefitted greatly. My husband had an oil field company which was growing. Pax Financial began to grow and i consider it very successful now.
We have enjoyed getting to know Darryl and his family over the years. We have attended events at Pax Financial and Darryl and his wife have attended several events with us.
I have enjoyed and trusted everyone I have worked with. I have benefitted financially from their service and advise.
I would strongly advise doing business with them. You won't be disappointed."
Financial Planning with a Company Who Truly Cares About Their Clients
"My wife and I have used PAX for over 20 years. Darryl Lyons and his team are highly skilled, professional and approach their clients with a hands on personal touch! The actual services are matched specifically to each client. We set our financial plan for our future and PAX was there every step of the way until my retirement. I have since lost my dear wife, who actually was the financial strength of my family. What she and PAX laid out for our financial security has allowed my family and me to move on with the confidence that all will be ok. During the good and yes the challenging times, Darryl and PAX has been there for us, not only with financial guidance, but with the strength of a company based on strong Christian values."
Financial Planning & Guidance
"I appreciate PAX financial planning and guidance for the last 10 years upon retirement. My only regret is not finding PAX sooner through Dave Ramsey."
Trustworthy and Highly Recommend
"We found PAX, a Dave Ramsey ELP, many, many years ago, and we have never regretted our decision to have PAX manage our finances and help us achieve our retirement goals. David Alvarez has been wonderful to work with; he reaches out to us regularly to ask if we have any questions or have concerns. With the market being so volatile these days, it's reassuring to us that our portfolio is being managed so well. We have complete confidence is David's ability and expertise to continue to provide exceptional service to us and keep us informed and provide recommendations for our portfolio. We have no qualms in highly recommendation PAX and David to anyone needing a personal financial advisor."
The guidance we needed when we needed it!
"We have been working with Joseph and Pax for at least 15 years. We began as a young married couple with a 2-year-old and Joseph guided us given the means we had to purchase life insurance and start a college fund for our little guy. Since then Joseph and the rest of the team have been very helpful in giving us options to make sure we can support our boys while in college as well as ourselves with the type of retirement we want to experience. Joseph and the team show such care for us and our family. I continue to recommend Pax anytime anyone asks about financial advisors!"
The right stuff !
"I engaged PAX Financial to handle my retirement funds over 20 years ago. As a result, despite the ups and downs of the market, in retirement and I have not had the burden of worrying about my finances being in good hands. It's a great feeling to know that my hard earned savings are safe, protected, and in good hands. It's a blessing to have this fiduciary relationship with PAX."
*The opinions expressed by clients are not endorsed by Pax Financial Group and may not reflect the views expressed by other clients. Depending on the facts and circumstances, public commentary made directly by a client about their own experience with, or endorsement of, an investment adviser, their personal investments, or their approval of Pax Financial Group is considered a testimonial. Testimonials are based on unique experiences from current clients and are not representative of all client experiences. Testimonials are unsolicited, and no cash or non-cash compensation is provided to any client. Pax Financial Group pays WealthTender for marketing services and to make accessible to the general public the testimonials posted to its website.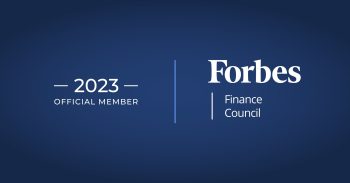 We help you Prepare for any Twists or Turns that life brings.
Managing your money can be a complex process. If you're like most people, you're very busy so dealing with financial issues can be a challenge.
We develop a custom financial roadmap that we'll help you manage to ensure you're staying on track to meet your life goals.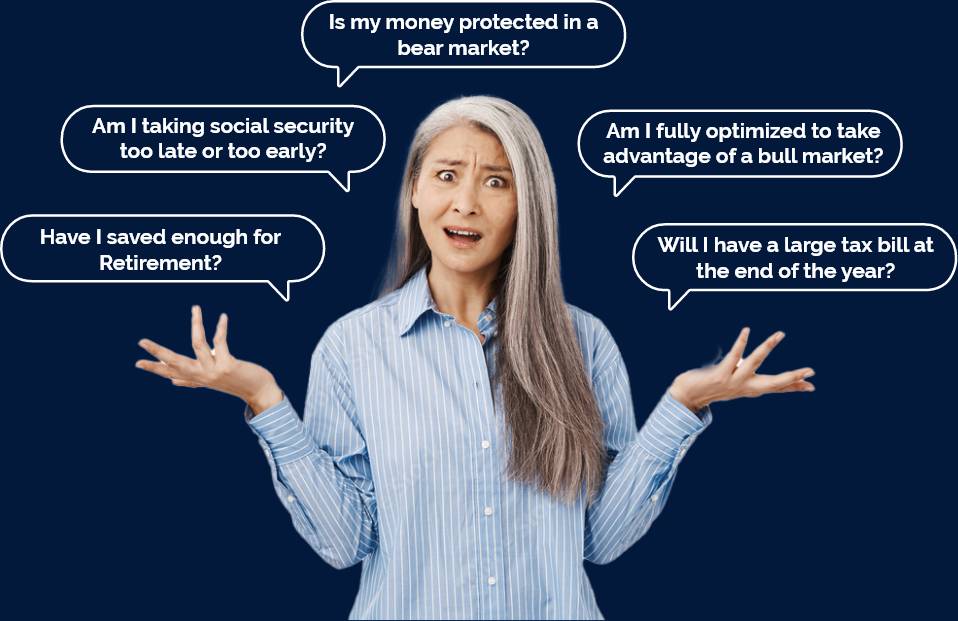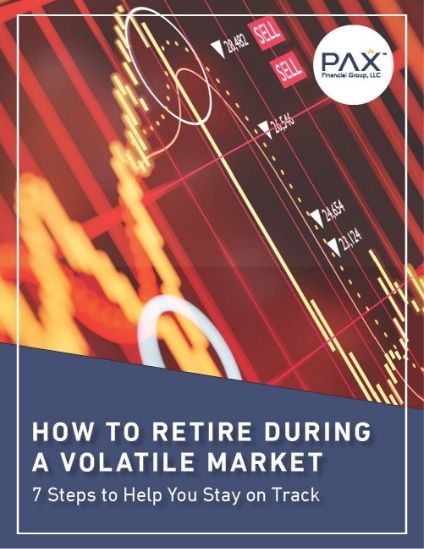 How to Retire During a Volatile Market
Read the seven steps to help
you stay on track
Keep updated on how the latest financial trends impact you